Shout It Out
12 seasonal Youth Sunday services for youth-led worship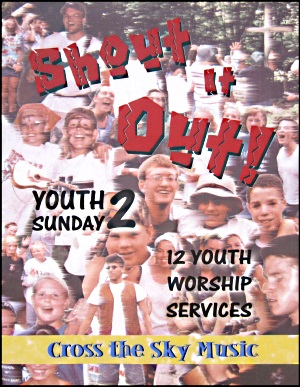 The Resource book contains 12 services designed for youth to lead in church, on retreats, or special events. Each service includes 3 skits, a faith statement, confession and forgiveness, and creative ideas. Themes include: Advent, Christmas, Epiphany, Lent, Easter, Pentecost, Christian community, baptism, the Lord's supper, peace, faith, and evangelism.
Sample Service: View the "Steps of Faith" worship service.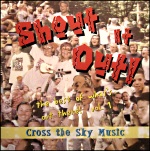 Shout It Out CD
It's a set of some of the BEST sing-alongs and praise songs out there! We picked 25 favorites that are a lot of fun to sing, focused on Christ, and easy to teach.
Songs:  Lord I Lift Your Name On High, Dance With Me, Amazing Love, Shout To The Lord, Light The Fire, Sanctuary, Lord Fill My Life, Cry of My Heart, You're the Source, The Happy Song, Lions, Hey Everybody, Jesus Loves Me (Twist), Blessed Be, Jesus Bop, Build Your House, Baptized, Wounded Soldier, Fear Not, We're Family, Peace Like a River, Psalm 25, Jesus Loves Me Alleluia, I Believe in Jesus, and Light of the World.
Skit Samples
The M&Ms Skit – A fun skit about openly expressing our faith and letting others see how much we truly love God.
I Wish – A dialogue about the importance of sharing our faith and living on a deeper spiritual level with each other.
Cloud of Witnesses – We are surrounded by saints who are watching and cheering us on as we live out our faith.
Reviews
"The music by Cross the Sky has been wonderful: simple melodies, easy to learn words, with wonderful messages." – youth director
"Thank you for your infectious love of music and for using it in the best way possible…to glorify God. After all He is the one who gave us these gifts, right? I see so many people every day who can't seem to get past the proudness of it all. Thank you for writing, playing and singing music that actually means something." – college counselor

Available Resources
Resource Manual: Includes 12 settings for youth-led worship
CD: Includes 25 songs to support the resource manual
Songbook: Includes lead sheets of all 25 songs on the CD
Order Info
Choose an item or full package from the menu below and select "Add to Cart". $2.00 shipping will be added per line item for online orders. We ship orders priority mail.