About Us
Singers, songwriters, musicians, writers and friends
Cross the Sky Ministries is a group of friends, writers, and musicians who love to create music, drama, and worship resources for youth and family ministry. Our focus is on God's amazing grace and the call of Christ to live faithful, loving, and sacrificial lives in our world today. We hope you find our music and drama resources useful in your ministry setting.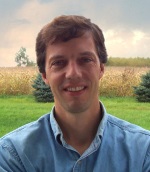 Paul Frantsen, project coordinator for Cross the Sky Ministries, lives in Waverly, Iowa, where he has worked with family and youth ministries, organized service projects and adventure trips, and served in a variety of ways in camping ministry. He is currently on staff at Camp Ewalu, Strawberry Point, Iowa, where he is involved in many areas of outdoor ministries, as well as being involved in the summer music and drama programs.
Camping ministry played a significant role in the formation and vision of Cross the Sky Ministries. Started in 1996 by a few camp staff from Iowa and Wisconsin, the first project was a cassette of songs about prayer written to support the Lutheran camping curriculum for that summer. Since then Cross the Sky Ministries has grown to include youth ministry folks from across the country who contribute new and original songs, skits, worship services, art, vocals, and music. Our resources have now reached hundreds of Christian camps, all varieties of Christian denominations, as well as dozens of countries around the world. We feel extremely blessed to be able to use our creative gifts and talents in this way.
The Vision
"The vision for Cross the Sky Ministries is to create resources that strengthen the ministry of God's people in their everyday lives. Most of our music is designed to be easy to teach and sing – not just listened to – with the key ingredients being songs that are simple, spirit-filled, and scripturally based. Our skits and dramas are designed to be entertaining, easy to learn, and life-changing to the viewers. I hope and pray that you find our resources to be a breath of fresh air as you listen, sing, work, and play in your place of ministry." – Paul Frantsen
Thanks!
"Thank you for your infectious love of music and for using it in the best way possible…to glorify God. After all He is the one who gave us these gifts, right? I see so many people every day who can't seem to get past the proudness of it all. Thank you for writing, playing and singing music that actually means something." – college counselor
Featured Artists
We have been blessed with good friends, songwriters, artists, and musicians who have contributed their many gifts and talents to Cross the Sky Ministries. Find out more about some of them below, including their vision for ministry and the projects they are currently working on.
Richard Bruxvoort Colligan
Central Standard Time
Mark Anzelon
Other Contributors
What people have said…
"I've got to hand it to you guys, I've been in youth work for a lot of years and this is the BEST stuff I've come across. You provide the whole package, and it works! I am one of two pastors in a small church that is starting fresh. Most of our kids at 12 and 13 have never seen or heard a praise band, and now we're doing your music on Wednesday night for worship….A real answer to prayer. I think the Holy Spirit finally found an open door at our church." – pastor
"The music by Cross the Sky was wonderful: simple melodies, easy to learn words, with wonderful messages." – youth director
"I spend a lot of time researching sketches for youth groups (I'm a high school drama teacher at a Christian school) and when I came across your sketches today, it was such a breath of fresh air!! They made great points, are written so that kids will enjoy doing them, and not at all "cheezy" (which so many Christian sketches/skits are….sad to say). Keep up the great work….Bravo!!" – teacher
"Last fall I ordered the Shine package and the Youth Sunday book from you for our youth group….I just wanted to write to let you know that yesterday was our Youth Sunday and it was an amazing event! It was one of the most moving Youth Sunday services we've ever had. During the "hugging song" we saw people hugging and interacting who were passively polite to one another for years. By the end, there wasn't a dry eye in the place! You have touched my kids more than I can express! Your work has touched our whole congregation and we are very grateful and thank God for His work through you!" – youth minister