Youth Sunday
7 Youth Sunday worship services for youth to lead in church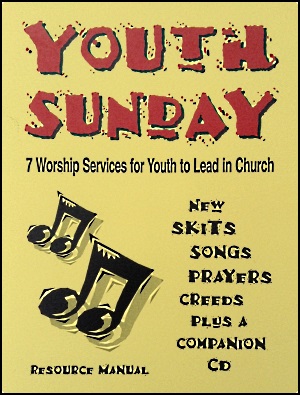 The Youth Sunday resource book contains 7 worship settings designed for youth to lead in church or for special events. Each setting contains 2 skits, 4-5 songs, faith statements, confessions, a sample bulletin, and lead sheets. A songbook with full piano scores is also available.
Worship Settings: Called to Grace, Shine for Christ, We're a Family, Reach Out, Surrounded by Prayer, Blessed are the Peacemakers, and River of Mercy.
Sample Service: View the "Called to Grace" worship setting.

Youth Sunday
It's our "best of" CD of Cross the Sky songs for youth-led worship. They have been taught at churches, camps and youth events across the country. The CD is an ideal tool for teaching the songs in the Youth Sunday resource book.
Skit Samples
Danny The Kid – Go ahead! Make my day! It's an old fashioned shootout in this western melodrama.
The Big Red Box – It's big! It's red! And it's free! What's inside that big red box anyway? Look and see!
What Can I Do For You? – Take a risk and radically love those around you! You just might save their life.
Frozen People – A call to reach out with God's love to those around us! Shatter those frozen people!
Reviews
"I've got to hand it to you guys, I've been in youth work for a lot of years and this is the BEST stuff I've come across. You provide the whole package, and it works! I am one of two pastors in a small church that is starting fresh. Most of our kids at 12 and 13 have never seen or heard a praise band, and now we're doing your music on Wednesday night for worship….A real answer to prayer. I think the Holy Spirit finally found an open door at our church."  –  Pastor
Resources Available
Resource Manual: Includes 7 settings for youth worship
CD: Includes 25 songs to support the resource manual
Songbook: Includes full piano scores for all the songs
Lyric Booklet: Lyrics and guitar chords for all the songs
Order Info
Choose an individual item or complete package from the menu below and select "Add to Cart".  $2.00 shipping will be added per line item for online orders.  We ship orders via priority mail.