Surrounded!
Relying on the power God's grace in the midst of human weakness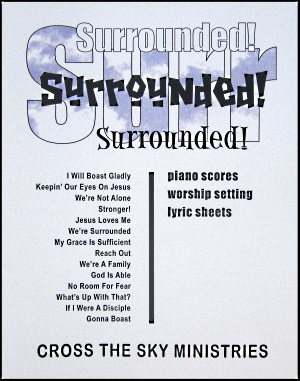 Surrounded is a collection of 14 original songs of praise and worship, based on 2 Corinthians 12:9, "My grace is sufficient for you, for my power is perfected in weakness. I will all the more gladly boast of my weaknesses that the power of Christ may rest on me." The over-riding theme is the grace, power, and love of God that is strong enough to see us through the challenges and frailty of life.
The music includes a variety of sing-alongs, praise and worship songs, some pieces written as special music for duets or trios, and a couple tunes we threw in there just for the fun of it! Listen to the audio samples below or click on the song titles to view the lyrics and get more information about each song.
We hope you enjoy the music!
Song Samples
Stronger
A rock anthem about the power of God's love to drive out all our fears.
Hey Jesus Loves Me
A new take on the original version thanks to the tune by Four Non Blonds.
I Will Boast Gladly
A bouncy, memorable chorus designed to teach 2 Corinthians 12:9.
If I Were a Disciple
If I Were a Disciple This song cuts loose a bit to teach the names of the 12 disciples.
Gonna Boast
Gonna Boast Fun, crazy, and wild, but with a strong message of God's love for us.
No Room For Fear
No Room For Fear Lyrics adapted from an ancient hymn about trusting in God's love.
Reviews
"The music by Cross the Sky was wonderful: simple melodies, easy to learn words, with wonderful messages." – youth director
"Thank you for your infectious love of music and for using it in the best way possible…to glorify God. After all He is the one who gave us these gifts, right? I see so many people every day who can't seem to get past the proudness of it all. Thank you for writing, playing and singing music that actually means something." – college counselor
Resources Available
Surrounded! CD: 21 songs of praise and worship
Songbook: Full piano scores of the songs
Lyric Booklet: Lyrics and guitar chords
Order Info
Choose a complete package or a single item from the menu below and select "Add to Cart".
Shipping: $2 will be added per line item for online orders. We ship via priority mail.