Shine!
A mime drama about Jesus Christ, His life, and ministry!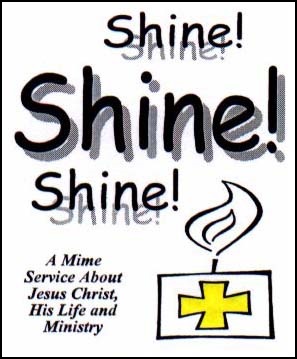 Shine! is a mime drama designed for Christian youth groups to present in church, on a mission trip, or as a community outreach. The drama is 50 minutes in length, and is based on 15 songs from the River of Mercy CD, which tells the story of Jesus' message, ministry, death and resurrection. The drama is ideal for a clown ministry team to perform during Lent or as a special Easter event.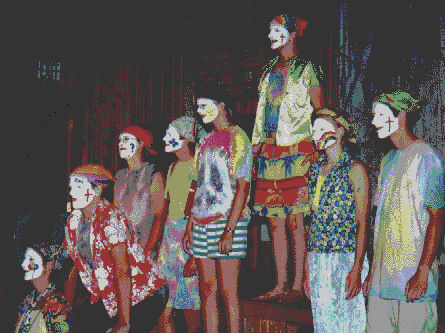 The director's booklet has everything you need to create an awesome mime drama service. It has instructions for the drama, make-up, costumes, face painting, lighting, stage setup, actions for all the scenes, plus Bible study discussion starters. A video of Shine! is also available to jump-start your production time.
Songs and Lyrics
Anointed
Christ calls the disciples, marking each one with a symbol of faith. This signifies how Christ has called us into fellowship and service.
Required
Christ leads the disciples in a fun line dance, teaching them to "do justice, love kindness, and walk humbly with their God" in this scene based on Micah 6:8.
Reach Out
Christ instructs the disciples to share God's love with the audience. They are encouraged to join in sharing the peace with each other.
Shine!
Christ is lifted up as the light of the world in this scene. The disciples light candles in the audience as the light spreads out everywhere.
Mighty Lord
The closing song is a celebration of God's power and faithfulness. The audience is moved to join in the celebration and fun!
Reviews
"Last fall I ordered the Shine package and Youth Sunday book for our youth group. I just wanted to let you know that yesterday was our Youth Sunday and it was an amazing event! It was one of the most moving services we've ever had. During the "hugging song" we saw people hugging and interacting who were passively polite to one another for years. By the end, there wasn't a dry eye in the place! You have touched my kids more than I can express! Your work has touched our whole congregation and we are very grateful and thank God for His work through you!" – Youth Minister
"Performing Shine brought our group closer together and gave us a sense of purpose and community." – Youth Leader
Shine Makeup Ideas
Face paint ideas and helpful hints for Shine!
Resources Available
River of Mercy CD: Includes 15 songs for the "Shine!" drama + 6 more praise songs
Shine! Director's Booklet: Scenes, lyrics, and everything needed to prepare the mime drama
Shine! DVD: Video of original "Shine!" drama
Copyright Use: For permission to photocopy Shine! booklet
Order Info
Choose a complete package or a single item from the menu below and select Add to Cart. $3.00 shipping will be added per line item for online orders. We ship via priority mail.