River of Mercy
A collection of 21 songs for youth-led worship
River of Mercy contains 21 original songs of youth worship and praise accompanied by a liturgical worship setting designed for teens. You'll find a unique collection of simple praise choruses and hymns for youthful worship that have come out of our background in Christian outdoor ministry. The songs focus on the mercy and grace of God, and our call to be loving and gracious in our daily lives. We think you love the music and find many of the songs useful in your congregational setting.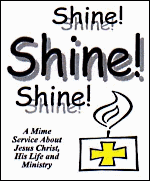 Shine!
The River of Mercy CD also supports a youth mime drama entitled Shine! It's a powerful and unique presentation about the life and ministry of Jesus Christ. For more information go to our Mime Drama page to learn more about Shine! and the three mime dramas from Cross the Sky Ministries.
Song Samples
We Gather
A call to worship focusing us on who we belong to and why we gather to worship.
Anointed
A reminder of who we are as a holy family called to be devoted to God and each other.
Lord Fill My Life
A cry to be filled with God presence and emptied of our selves, based on Phil. 2:1-8
Required
An anthem focused on mercy, justice, and walking humbly with God, based on Micah 6:8.
Mighty Lord
An energetic song of pure celebration and a call to worship God with all your might!
Peace Like a River
This fun new version has something the old classic never had – Jesus Christ!
Reviews
"The music by Cross the Sky was wonderful: simple melodies, easy to learn words, with wonderful messages." – youth director
"Thank you for your infectious love of music and for using it in the best way possible…to glorify God. After all He is the one who gave us these gifts, right? I see so many people every day who can't seem to get past the proudness of it all. Thank you for writing, playing and singing music that actually means something." – college counselor
Resources Available
River of Mercy CD: Includes 21 songs of praise and worship
Songbook: Includes full piano scores of all 21 songs on the CD
Lyric Booklet: Lyrics and guitar chords for all the songs
Worship Setting: A contemporary liturgy based on 8 River of Mercy songs
Order Info
Choose a complete package or a single item from the menu below and select "Add to Cart". $2 shipping will be added per line item for online orders. We ship via priority mail.