Cross the Sky is a group of people who create music, drama, and worship resources for youth ministry. Our focus is on God's grace and the call of Christ to live faithful, loving, sacrificial lives in our world today. We hope you find our site useful and refreshing!

Music that's easy to learn and sing. Songs that are spirit-filled and scriptural.

Skits that are fun, faith-filled, and support real church ministries all year long.

Resources designed for youth-led worship, plus music, skits and creative ideas.
Mime dramas designed for special youth events at church or on mission trips.

Order CDs, songbooks, worship resources, skit books, worship settings.

QT Quiet Time Devotions. New Music. Creative worship ideas. More!

New youth and family ministry resource!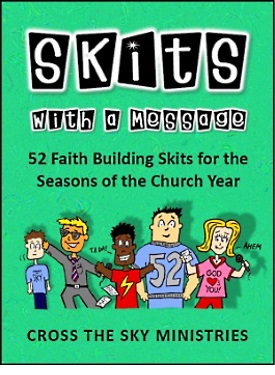 Includes 52 scripted skits for youth and family ministry. There are skits for Advent, Christmas, Epiphany, Easter, Pentecost, Lent, Thanksgiving, and many more for use throughout the year. Each skit includes scripture verses, a brief message for leaders to use, discussion questions, and a prayer.
The skits focus on important faith topics like welcoming visitors, servant leadership, community life, family devotions, prayer, peacemaking, forgiveness, accepting others, the Gospel message, God's grace, and following Jesus. …more info
---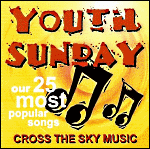 It's a set of our 25 most popular songs for youth worship. The music also supports the "Youth Sunday" resource book with seven worship services for youth to lead in church. Includes skits, songs, worship settings, and lots of creative ideas.
Song Samples
These songs are a good sample of the music from Cross the Sky. Listen or click on a song title to see lyrics and more information. We hope you enjoy the music! …more info
How Great
Lord Fill My Life
Mighty Lord
We Gather
---
These two skits are ideal for your church's fall kick-off or Sunday School rally day. Both are in our new skit resource book "Skits With A Message." Try them out for free, then order the book if you like what you see!
Welcome To Our Church Three church members give a visitor a tour of the sanctuary. They point out things of interest with disdain, while the visitor sees the positive side of things. – Hebrews 13:1
The #1 Rule A line of students struggle to obey the teacher's rules. They learn that if they follow the #1 rule of Jesus, to love one another, then everything else will fall into place. – John 13:34-35

Go to our Skits Page for more free skit samples